The Diploma in Islamic Studies Programme (DISP) is jointly offered by Muslim Converts' Association of Singapore (MCAS), Darul Arqam, and the International Islamic University of Malaysia (IIUM). This one year programme is designed to give exposure to the Islamic worldview, open to both Muslims and non-Muslims.
The programme was first introduced in 2000, with overwhelming response from the Muslim community in Singapore.
The programme objectives are as follows:
To provide adequate knowledge in the religion, ethic, law, history, and culture of Islam
To show the relevance of Islamic concepts and principles to the daily lives of contemporary Muslims
To create awareness about the problems facing the world today and to contend for their solution according to Islam.
DISP is offered in English and all classes are held in Singapore. All lecturers are from the IIUM. A diploma will be awarded by IIUM to all participants who have successfully completed the course.
University Details
International Islamic University of Malaysia (IIUM) is a renowned university in the Islamic society worldwide. Its establishment in 1983 was the fulfillment of one of the major aspirations of the contemporary global Muslim community to regain the Ummah's leadership in the quest for knowledge.
This yearning of the Ummah is a key element in IIUM's vision statement:
"To be an international centre of educational excellence which integrates Islamic revealed knowledge and values in all disciplines and which aspires to the restoration of the Ummah's leading role in all branches of knowledge."
IIUM operates under the direction of a Board of Governors with representatives from the eight sponsoring governments and the Organization of Islamic Conference (OIC). It maintains links with governments and institutions all over the world, such as the League of Islamic Universities, the International Association of Universities and the Association of Commonwealth Universities. It is also affiliated with several Malaysian-based businesses that provide opportunities for students to gain practical work experience.
More information can be found at: http://www.iium.edu.my/

Programme Type
Part-time
Total Programme Duration
12 months
Day & Time
Week 1 & 3*

Saturdays: 5:30pm – 8:30pm

Sundays: 9:30am – 1:30pm

Total No. of Modules
10
Duration per Module
2 segments of 6 hours each
Modules Offered:

Introduction to Aqidah & Akhlak
Introduction to the study of the Quran
Introduction to Fiqh
Comparative Religion
Introduction to Islamic Worldview
Introduction to the study of the Sunnah
Islamic Institution
Quranic view of other religions
Muslim community in Pluralistic Society
Lessons from Sirah & Islamic history
*Classes are conducted every alternate weekend (Saturdays and Sundays)

Registration Fee
SGD$ 50.00 (Non-refundable)
Course Fee
SGD$ 2950.00 (inclusive of GST and Registration Fee)**
Payment Modes
Cash / Nets / Visa

or

By Cheque made payable to:  Muslim Converts' Association of Singapore
**Only applicants who are accepted by the University as students are required to pay the course fee in full.  A rebate of $150 will be given when payments are made in full before course starts.

Applicants seeking entry into this programme must possess the following requirements:-
Any local degree or its equivalent

with at least 3 years of working experience.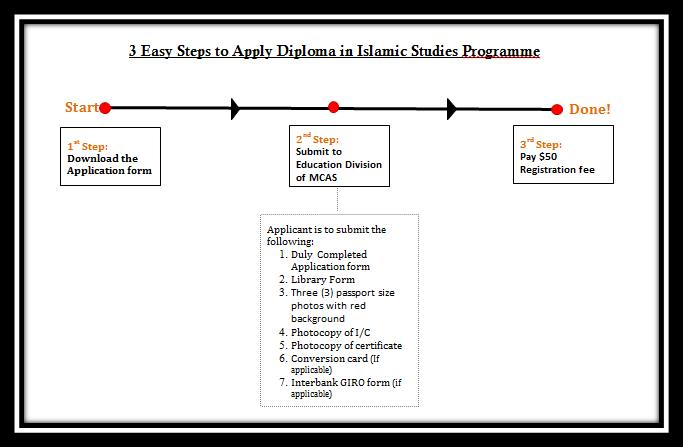 Please note the following:
Photocopy of your respective certificates stated in the application form. Students are to bring along their original certificate to Muslim Converts' Association of Singapore for verification purposes

To retrieve the application form, please email the course coordinators directly upon opening of registration period.  Their contact details are as follows:


| | |
| --- | --- |
| Sister Shafiqah: shafiqah@mcas.sg | |
| | |

The registration window is now open from 8 June – 15 July 2017.

Application forms that are submitted after the fore-mentioned period will not be processed.

The application form submission does not guarantee you a place in the programme.  The final decision is up to the prerogative of the University.

Your application status will be announced by during the 4th quarter of 2017.

For registration's fee, a non-refundable registration fee of $50.00 must be made once your duly completed application form has been checked by Education Division (ED) officers.  The ED officers will issue you a slip to make the registration fee payment at the English Islamic Bookshop, Level 1.
All information is subject to changes without prior notice.
For further information on courses, kindly contact:
 Education Division
Here are the upcoming cycles:
No Event.