Fiqh Modules
Covering 8 weekly lessons per module.
This course addresses the basic rules and duties of a Muslim based on the Islamic Law. It provides details on how to perform and appreciate these deeds that significantly complement the understanding of Islam.
The Fiqh Module 1 will cover the following lessons:
The meaning of Fiqh, the 5 rulings of Fiqh and the foundations of Fiqh
Purification (Toharah)  and the tenets of purification i.e. Obligatory bath (ghusl) and Ablution (wudhu').
The Fiqh Module 2 will cover the following lessons:
Introduction to prayers, the conditions of prayers, the rukun of prayers
What nullifies the prayers and the supererogatory acts of prayers
Jama' & Qasar of prayers
Other congregational (Jemaah) prayers
The Fiqh Module 3 will cover the following lessons::
Fastings and the rulings pertaining to it.
The rulings and the different types of fasting
Pre-dawn meal (Sahur) and breaking of Fast (Iftar)
Acts which void the fast.
The Night of Magnificent (Lailatul Qadr).
The Fiqh Module 4 will cover the following lessons::
Engagement and marriage in Islam.
The 5 rulings of Fiqh on marriage.
Wedding reception (Walimah) and dowry.
Rights of husband, wife and children.
Divorce (Talaq) and its rights in Islam.
Retraction (Ruju') of divorce.
Inheritance
Schedule for Fiqh Modules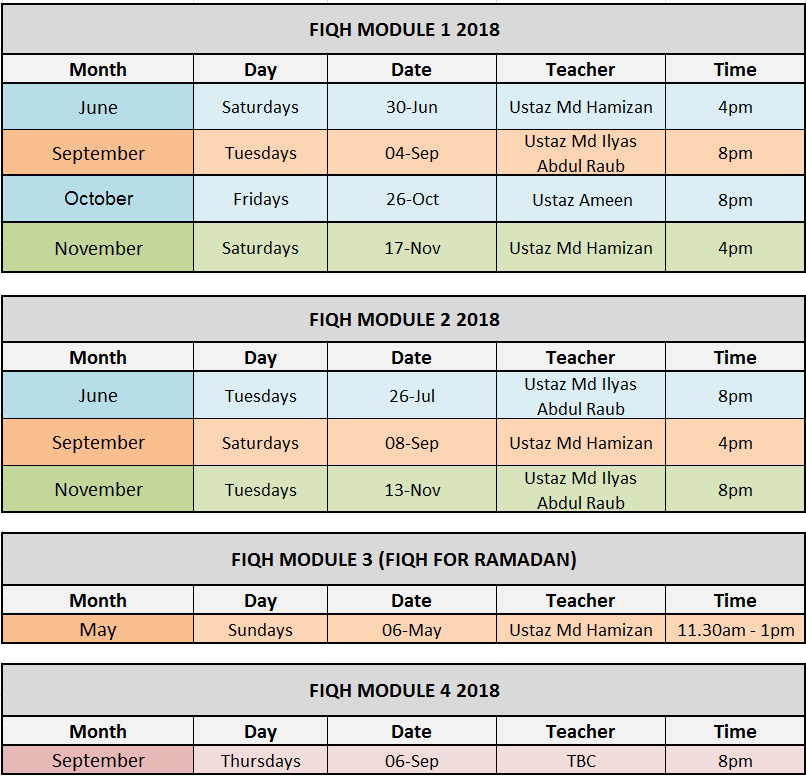 Registration will be opened 1 month prior to course commencement.
CLICK HERE FOR REGISTRATION OF COURSES
ALSO AVAILABLE: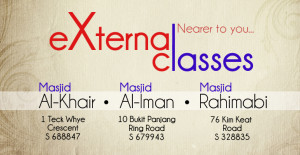 Click here for our classes @ other Mosques
You May Also Like…
Important Links
---
 For further information on courses, kindly contact:
Education Division
Here are the upcoming cycles:
No Events