Lecturer: Zulkifli Bin Md Isa
Date:
01/02/2017 - 24/05/2017
Time:
8:00 pm - 9:30 pm
Location:
Darul Arqam Auditorium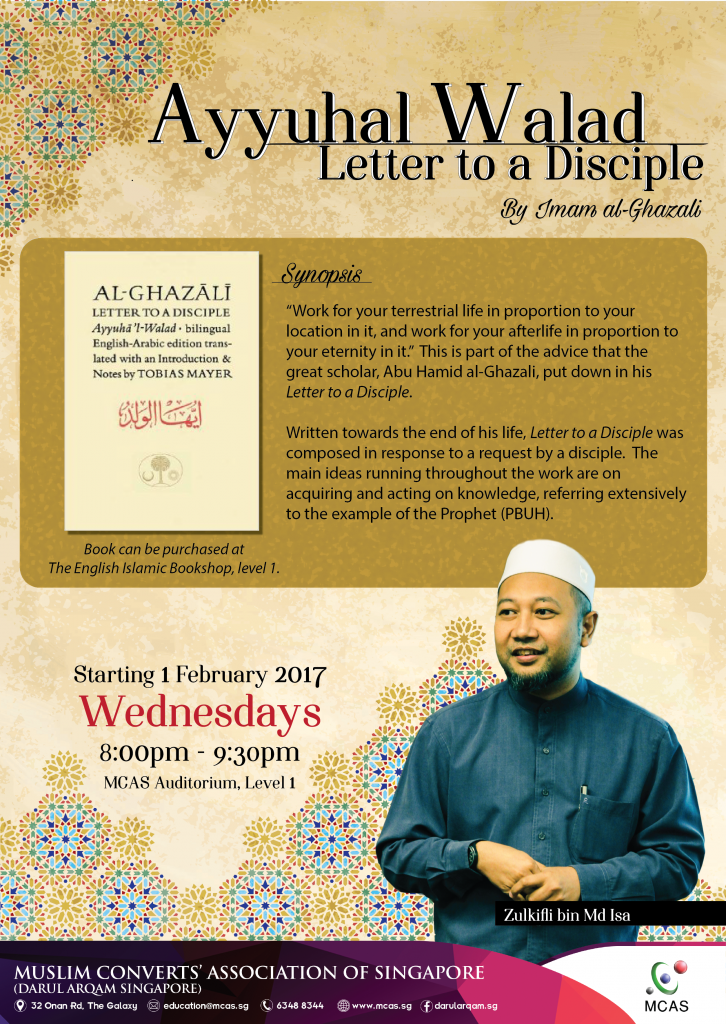 Course Synopsis
"Work for your terrestrial life in proportion to your location in it,and work for your afterlife in proportion to your eternity in it." This is part of the advice that the great scholar, Abu Hamid al-Ghazali, put down in his Letter to a Disciple.
Written towards the end of his life, Letter to a Disciple was composed in response to a request by a disciple. The main ideas running throughout the work are on acquiring and acting on knowledge, referring extensively to the example of the Prophet (PBUH).
Join us and discover how we can benefit the valuable advice of the the great scholar, Abu Hamid al-Ghazali.
Registration is required*. Free-of-charge.
*As registration has reached the full capacity of the Auditorium, seats will be based on first-come first-serve basis. We appreciate that students find their sittings provided outside the Auditorium after the class has been fully occupied.
Every Wednesday.
Time: 8:00pm – 9:30pm
Venue: Darul Arqam Auditorium, 1st Floor
Lecturer: Ustaz Zulkifli Bin Mohd Isa
Come Join Us!!!
Bookings
This event is fully booked.
Click to return to: