Lecturer: Various
Date: 18/11/2018 Time:10:00 am - 12:00 pm
Map Unavailable
Children are our future; they need and deserve special protection and support. They are our legacy and as a community, we have to play our role in helping to mold the next generation. However if children are neglected, it could jeopardize the future of our nation, hence we need to do our part.
Caring for orphaned children are regarded in high esteem in Islam. We are encouraged to be kind and care for the orphans as such that Allah S.W.T has promised a great reward to those who undertake this responsibility.
In a hadith narrated by Imam Al-Bukhari, Rasulullah SAW once said that those who care for orphans will be together with him in Paradise.  It is the result of such care and devotion in Islam that led to the rise of the likes of Imam Shafi'l, Imam Bukhari and Imam Suyuti.
Just as how Islam emphasizes care for orphans, Islam also prioritizes care for children who have been neglected. One of their fundamental rights is that their physical, emotional and educational needs are well taken care of. These children are often left to fend for themselves while their parents could be going through mental health issues, serving prison sentences, and some children are also victims of abuse.
Many of us have heard about the foster care system. An ongoing initiative by the Ministry of Social and Family Development helps to place these disadvantaged children in temporary homes, as it is best for a child to develop and grow within a family environment. The Foster Care Programme matches families that can offer temporary care and protection to children who are below 18 years old.
Based on recent findings, there is a dire need for more Muslim couples and families to come forward as foster parents.
In support of Foster Care Week 2018 (17-24 Nov), this outreach would be one of the platforms to raise awareness about Fostering and to recruit more foster parents for children who are abused, neglected, or abandoned.  Awareness amongst Muslim families is an important aspect to ensure that our children are well taken care of and raised according to their religion.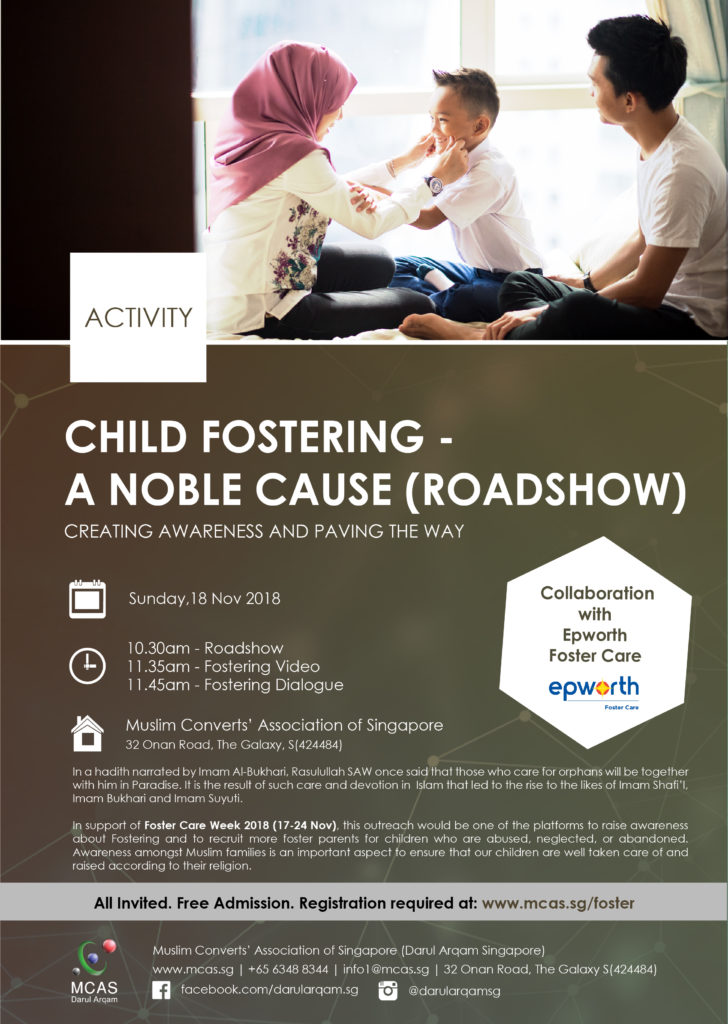 TARGET AUDIENCES
MCAS members and public.
PROGRAMME
Date: 18 November 2018
Programme Schedule:
10.30am to 12.30noon – Roadshow
11.35am – Fostering Video
11.45am – Fostering Dialogue
Venue            : Ground floor for EPWorth Booths,
                      : Auditorium for video sharing and dialogue session
                      : 1st floor foyer for refreshment
Fee                : FREE
Bookings
Bookings are closed for this event.
Click to return to: No Categories