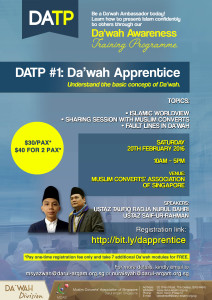 Click here to register!
D'Apprentice is the first module from the Da'wah Awareness Training Programme.
DATP is a new initiative by Muslim Converts' Association of Singapore designed to train and equip aspiring Da'wah ambassadors, age 18 and above, with relevant knowledge and skills.
Be an Apprentice today
D'Apprentice – the "D" stands for "Da'wah". As part of the thousands of Muslims in Singapore that interact with thousands of potential Muslims every day, we believe that every Muslim can play a part to spread the message of Islam – and that is Da'wah, in its simplest and basic form. D'Apprentice serves as the platform for youths to be inspired and to inspire others about the beauty of Islam.
Motivation of D'Apprentice
D'Apprentice is dramatically different from what you would expect of a Da'wah training programme. From workshops to create awareness about the misconceptions of Islam to hearing from a convert's perspective on the impact of da'wah to intensive breakout group discussions, the programme aims to equip participants with skills and confidence to spread the message of Islam.
Students will have a clear understanding of the meaning of Da'wah and address the issues concerning the Muslim society in Singapore regarding the responsibilities of giving da'wah.
Payment Details:
One-time registration fee for the whole Da'wah Awareness Training Programme.
1 Pax: $30
2 Pax: $40
Click here to register.
Please make payment at our bookshop before the workshop. Refer to opening hours here.
For Frequently Asked Questions, please view [FAQ Page link]. For more information, please contact msyazwan@darul-arqam.org.sg or nuraisyah@darul-arqam.org.sg
Click to return to: