COURSE SYNOPSIS
This ½ day course prepares participants in becoming Imam of prayer i.e. from the calling of Azan until the recitations of closing dua (supplications) after prayer. This course covers the essential theoretical knowledge such as the conditions to be an Imam of Fardhu prayers, saf(arrangement) of a Jama'ah in prayer consisting of male, female adults and children, the virtues of praying in congregation and the virtues of being the Muazzin for prayers.
Course highlights:
The calling of Azan and the Iqamat and their responses (for the one who hears them)
The virtues of Muazzin and the congregational prayer (Jama'ah)
The etiquettes in Jama'ah prayer and its formation
The conditions to be an Imam in prayers
The conditions to follow the Imam in prayers
The complete recommended wirid and dua (supplications) after prayers.
This course is open to male and female participants.
COURSE DATES & TIMING:
Sunday: 26 August 2018, 9.30am – 1.30pm.
Fully booked! Registration is closed!
TRAINER:
Ustaz Ahmad Faritz Bin Mohamed Hairudin
FEES (Inclusive of course notes and morning tea)
Converts or Members: Free Admission! (Online registration is required. Click here to register)
*Non-Members: $20 (Registration and Payment at Darul Arqam Bookshop)
(*For Non-Members, booking of slots will only be confirmed upon payment.)
BOOKSHOP OPERATING HOURS:
Monday, Saturdays and Sundays: 10am to 5.30pm
Tuesdays – Fridays: 10am to 8.30pm
TRAINER'S PROFILE: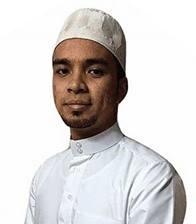 Ustaz Ahmad Faritz bin Mohamed Hairudin spent 12 years of his learnings at Madrasah Wak Tanjong Al-Islamiah. He later furthered his studies at the Al-Azhar University in Egypt and was conferred the B.A. of Islamic Jurisprudence. Ustaz Ahmad Faritz has conducted various enrichment and training programmes at various organizations such as the Muslim Youth Forum (MYF) and etc . He was a former Executive Imam of Darussalam Mosque.
Click to return to: