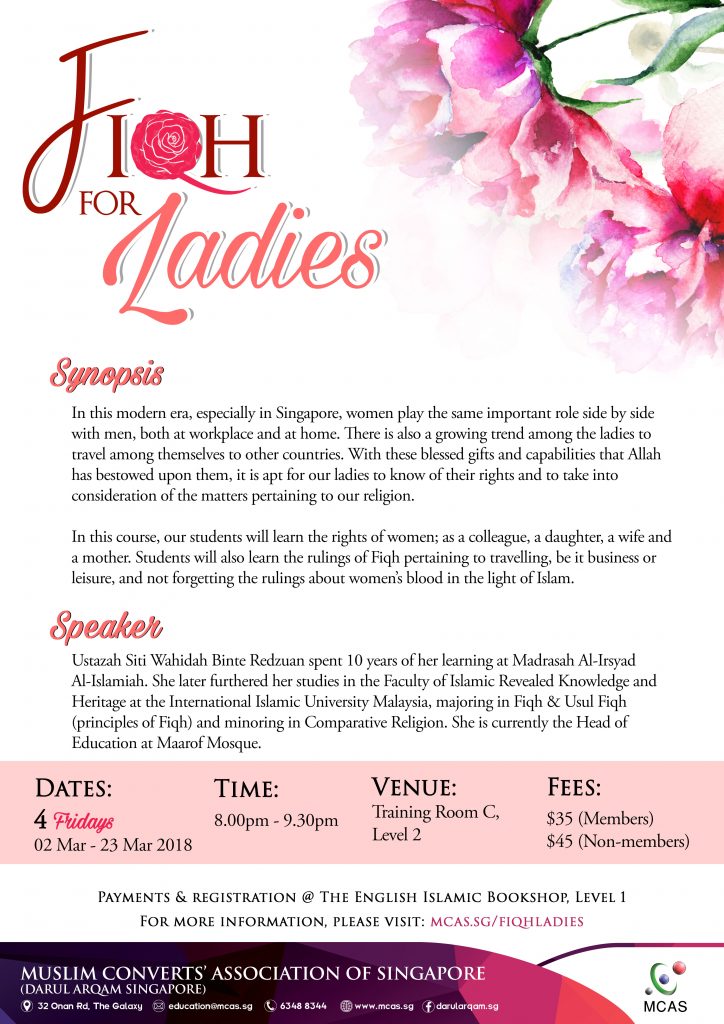 Course Synopsis:
In this modern era, especially in Singapore, women play the same important role side by side with men, both at workplace and at home. There is also a growing trend among the ladies to travel among themselves to other countries. With this blessed gifts and capabilities that Allah has bestowed upon them, it is rightful for our ladies to know of their rights and to take into consideration of the matters pertaining to our religion.
In this course, our students will learn the rights of women; as a colleague, a daughter, a wife and a mother. Students will also learn the rulings of Fiqh pertaining to travelling, be it business or leisure, and not forgetting the rulings of women's blood in the lights of Islam.
Course Highlights:
– Status of Women and their rights in Islam
– The Purpose and Practicals of Shari'ah Laws (Islamic Laws)
– Rulings Pertaining to Women's Blood (Haidh, Nifas and Istihadhah)
– Muslim Women Dress Code, Duties and Responsibilities for working women.
Course Dates:
Fridays, 02 March – 23 March 2018
Time: 8:00pm – 9:30pm
Fees:
Members of Darul Arqam: $35
Non-Members: $45
Registration and Payment are to be made at Darul Arqam Bookshop.
Bookshop Operating Hours:
Monday, Saturdays and Sundays: 10am to 5.30pm
Tuesdays – Fridays: 10am to 8.30pm
Trainer's Profile:
Ustazah Siti Wahidah Binte Redzuan spent 10 years of her learning at Madrasah Al-Irsyad Al-Islamiah. She later furthered her studies in the Faculty of Islamic Revealed Knowledge and Heritage at the International Islamic University Malaysia, majoring in Fiqh & Usul Fiqh (principles of Fiqh) and minoring in Comparative Religion. She is currently the Head of Education at Maarof Mosque.
Click to return to: