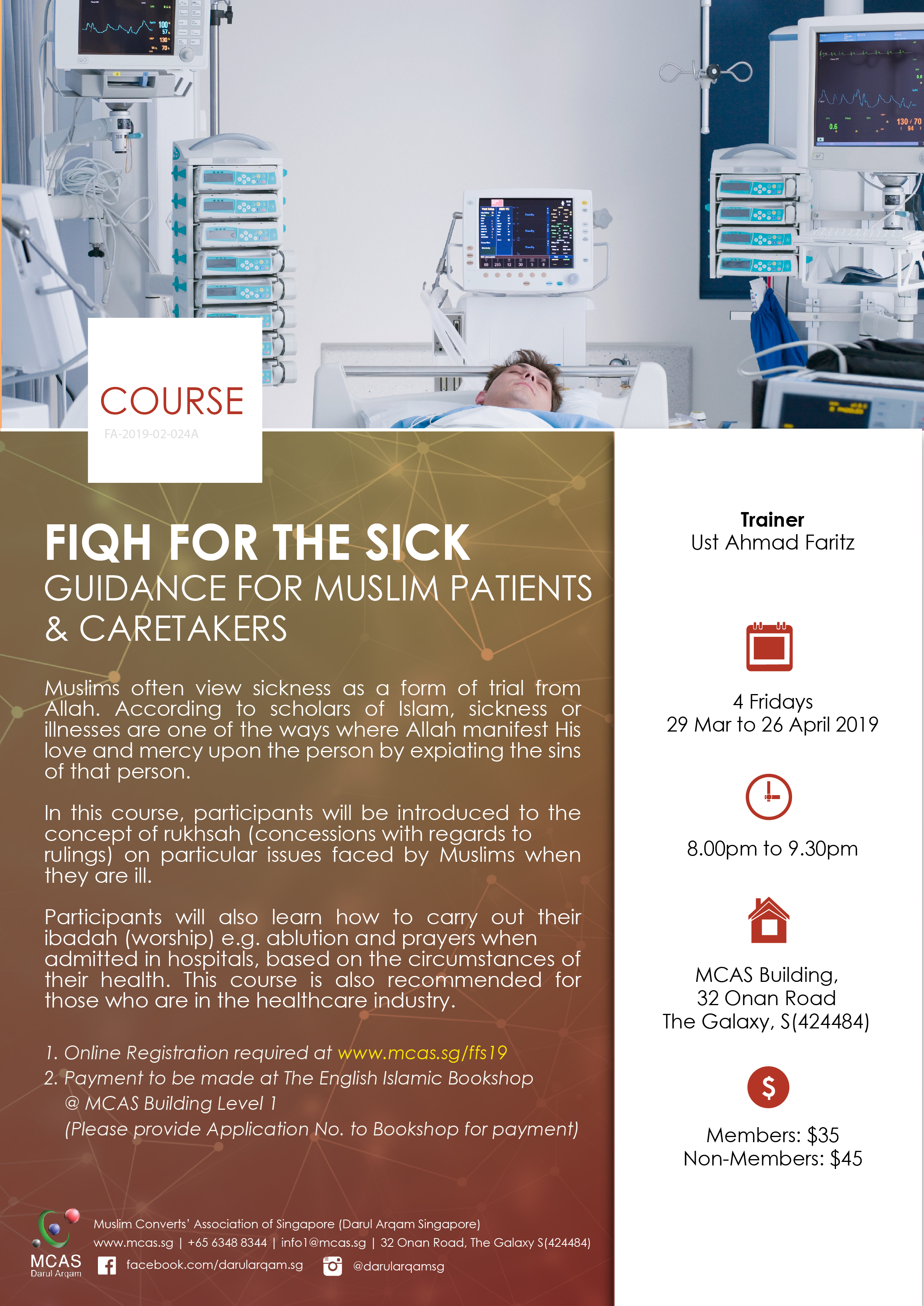 COURSE SYNOPSIS
More than often, Muslims view sickness as a form of tribulation from Allah. According to scholars of Islam, sickness or illnesses are one of the ways of Allah showing His love and mercy upon the person by expiating the sins of the person.
In this course, participants will be introduced to the concept of rukhsah (concessions with regards to rulings) on particular issues faced by Muslims when they fall sick. Participants will also learn how to carry out their ibadah (worship) e.g. ablution and prayers when admitted in hospitals, based on the circumstances of their health.
COURSE DATES & TIMING:
4 Fridays,
29 March to 26 April 2019
8pm – 9.30pm.
TRAINER: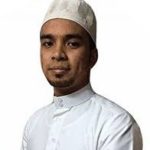 Ustaz Ahmad Faritz
Ustaz Ahmad Faritz bin Mohamed Hairudin spent 12 years of his learnings at Madrasah Wak Tanjong Al-Islamiah. He later furthered his studies at the Al-Azhar University in Egypt and was conferred the B.A. of Islamic Jurisprudence. Ustaz Ahmad Faritz has conducted various enrichment and training programmes at various organizations such as the Muslim Youth Forum (MYF) and etc . He was a former Executive Imam of Darussalam Mosque.
FEES (Inclusive of course notes and tea break)
Members: $35
Non-Members: $45
Registration and Payment at Darul Arqam Bookshop
Seats are limited! Reserve your seats NOW!
Book your seats now! Register your slot through the link below! (Slots will only be confirmed upon payment made at our Bookshop) 
1. Online Registration required at https://mcas.aimsapp.com/onlineapp/frmOnlineApp.aspx?strProgID=FFS&strIntakeID=FFS_MAR_19(FRIDAYS_8PM)
2.Payment at Bookshop
(Please provide Application No. to Bookshop for payment)
BOOKSHOP OPERATING HOURS:
Monday, Saturdays and Sundays: 10am to 5.30pm
Tuesdays – Fridays: 10am to 8.30pm
Click to return to: