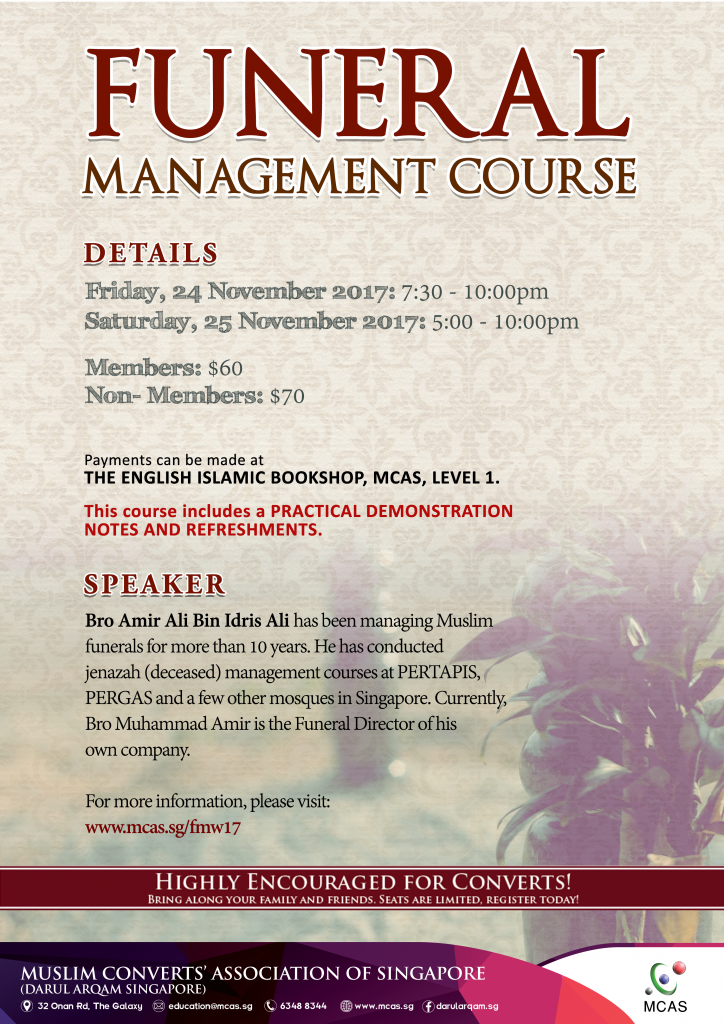 The Funeral Management Course discusses subjects related to death and what constitutes a Muslim funeral. In this course, participants will learn the theory as well as the practical aspect of managing a jenazah (deceased), right from the time of the passing until the burial. Participants will also learn the signs of death or near death, and the preparation needed when facing these moments.
COURSE OVERVIEW
Introduction to Jenazah (Deceased)
Death and near death (Naza')– situations, preparations and etiquettes.
Recommended acts to do when facing a dying person – teaching the Shahadah, reciting surah Yasin etc
After death procedures – Police report, Death certification, Permit of burial, etc
Washing the deceased body (al-Ghusl), shrouding the Deceased (al-Kafn) for male & female and its etiquettes
Practical lessons on al-Ghusl, al-Kafn, Solat, etc
The Funeral Prayer (Solat Jenazah) – procedures, adult male/female, boy/girl, in absentia (solat al-ghaib), etc
The Burial – digging the grave, placing of the body, qiblah direction, supplication, etc
Visiting the Muslim Cemetery & Consoling the Deceased's Family – sunnah, adab, clothing, supplications, etc
Period of Mourning & 'Iddah (period of waiting for widows)
COURSE DATES & TIMING:
Fridays: 24 November 2017, 7.30pm – 10.00pm.
Saturday: 25 November 2017, 5.00pm – 10.00pm.
TRAINER:
Bro Md Amir Ali bin Idris Ali
FEES (Inclusive of course notes and refreshments)
$60 – Darul Arqam Members
$70 – Non-Members
Refreshments will be served at 7pm and 6.30pm on Friday and Saturday respectively.
Registration and Payment are to be made at Darul Arqam Bookshop.
(Pre-booking via online does not guarantee a space in the course unless after payment has been made at Darul Arqam Bookshop)
BOOKSHOP OPERATING HOURS:
Monday, Saturdays and Sundays: 10am to 5.30pm
Tuesdays – Fridays: 10am to 8.30pm
TRAINER'S PROFILE: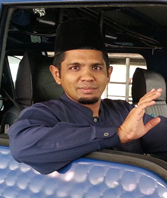 Bro Muhammad Amir Ali Bin Idris Ali has been handling Muslim funerals for more than 10 years now.  He has conducted Funeral (deceased) Management courses at PERTAPIS, PERGAS, Simply Islam and many other mosques in Singapore. Currently, bro Muhammad Amir is the Funeral Director at his own company.
Bookings
Bookings are closed for this event.
Click to return to: