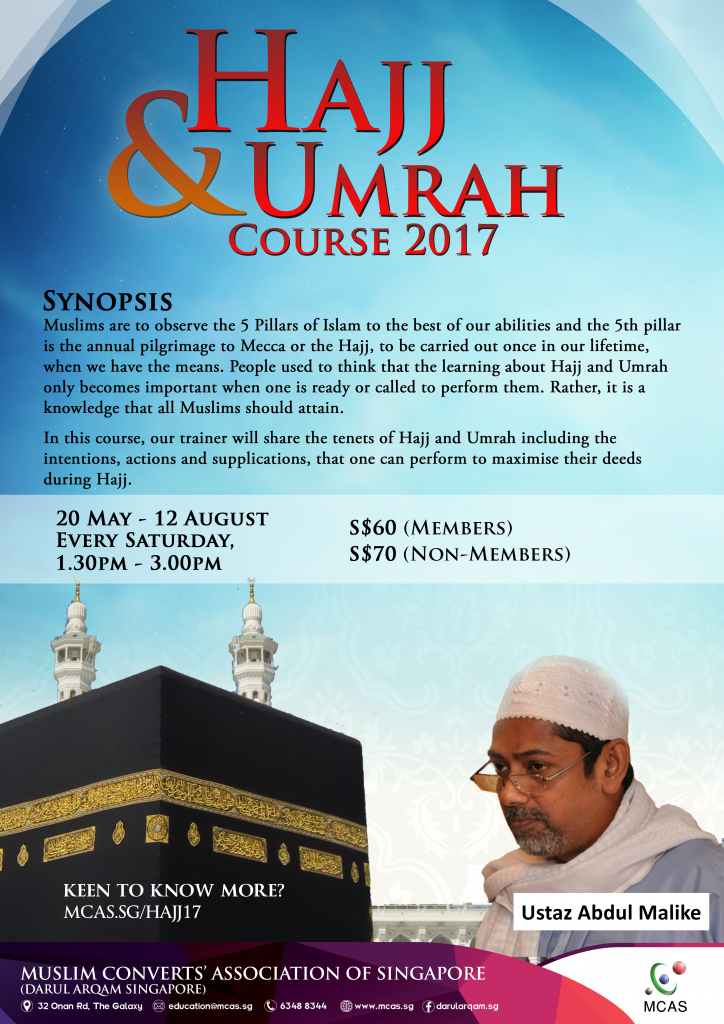 COURSE SYNOPSIS
Muslims are to observe the 5 Pillars of Islam to the best of our abilities and the 5th pillar is the annual pilgrimage to Mecca or the Hajj, to be carried out once in our lifetime, when we have the means.
People use to think that the learning about Hajj only becomes obligatory when one is ready or called to perform them. It is rather a knowledge that all Muslims should attain.
In this course, our trainer will share the tenets of Hajj & Umrah including the intentions, actions and supplications, one can perform to maximise their deeds during Hajj, inshaAllah.
COURSE DATES:
Saturdays, 20 May 2017 – 12 August 2017, 1.30pm to 3pm.
COURSE FEES:
Darul Arqam Members: $60
Non-Members: $70
Registrations and Payments are to be made at Darul Arqam Bookshop.
Bookshop Operating Hours
Saturdays, Sundays & Mondays  – 10.00am – 5.30pm
Tuesdays – Fridays                       – 10.00am – 8.30pm
Click to return to: