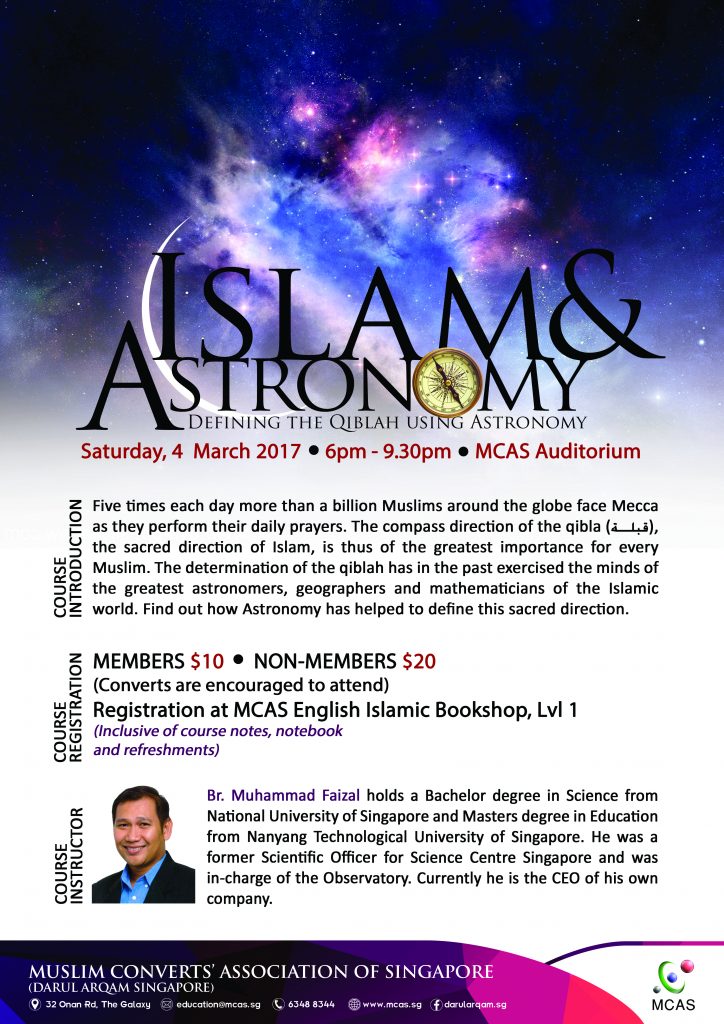 DATE & TIME
Date: Saturday, 4 March 2017
Time: 6pm – 9.30pm
TRAINER
Bro Muhammad Faizal Bin Othman
PROGRAMME SYNOPSIS
Islam has long since used astronomy to determine some of the most important events in Islam, on top of utilizing the information gained to fulfill some of the prerequisites required to carry out an act of worship. This includes the way to determine the coming of a new month, i.e. by looking at the new moon, and determining the Qiblah, i.e. by understanding the positioning of stars on the night sky.
Five times each day, more than a billion Muslims around the globe face Mecca as they perform their daily prayers. The compass direction of the Qiblah, the sacred direction of Islam, is thus of the greatest importance for every Muslim.
The determination of the Qiblah has in the past exercised the minds of the greatest astronomers, geographers and mathematicians of the Islamic world. Find out how Astronomy has helped to define this sacred direction.
In this Islam and Astronomy workshop, Bro Faizal will be sharing with the participants on how to determine and navigate the Qiblat through astronomy. He will also explain on how yearly Taqwim (Islamic Calendar) is done and confirmed in Singapore.
Limited Seats!!!
Join Us Now!!!
FEES & PAYMENT
Members of MCAS: $10
Non-Members: $20
(Fees inclusive of course notes, notebook and light refreshments)
Registrations and Payments are to be made at MCAS Bookshop
BOOKSHOP OPERATING HOURS
Monday, Saturdays and Sundays: 10am to 5.30pm
Tuesdays – Fridays: 10am to 8.30pm
Click to return to: