Lecturer: M Mukhtar Habib M
Date:
20/10/2018 - 27/07/2019
Time:
12:15 pm - 1:45 pm
Location:
Darul Arqam Auditorium
Course Synopsis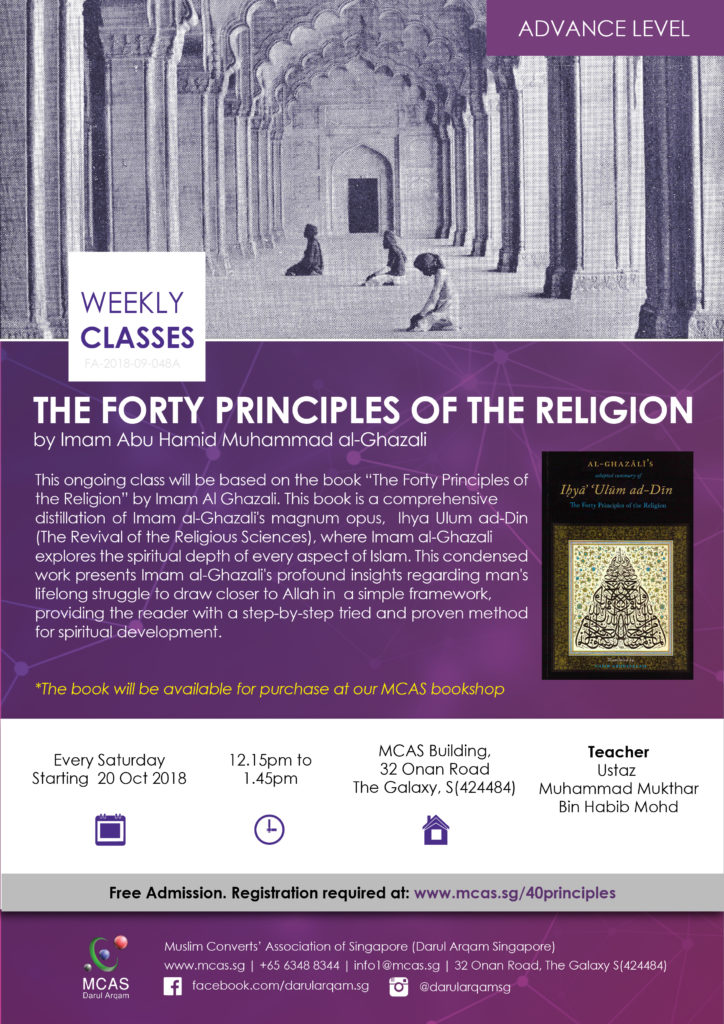 This ongoing class will be based on the book "The Forty Principles of the Religion" by Imam Al Ghazali. This book is a comprehensive distillation of Imam al-Ghazali's magnum opus, Ihya Ulum ad-Din (The Revival of the Religious Sciences), where Imam al-Ghazali explores the spiritual depth of every aspect of Islam. This condensed work presents Imam al-Ghazali's profound insights regarding man's lifelong struggle to draw closer to Allah in a simple framework, providing the reader with a step-by-step tried and proven method for spiritual development.
*The book will be available for purchase at our MCAS bookshop
Registration is required. Free-of-charge.
Commencing on Saturday, 20 October 2018.
Time: 12:15pm – 1:45pm
Venue: Darul Arqam Auditorium, level 1
Lecturer: Ustaz Muhd Mukhtar Bin Habib Mohd
Come Join Us!!!
Click to return to: