Lecturer: Abdul Mateen Abu Bakar
Date:
21/03/2017 - 26/12/2017
Time:
8:00 pm - 9:30 pm
Location:
Darul Arqam Auditorium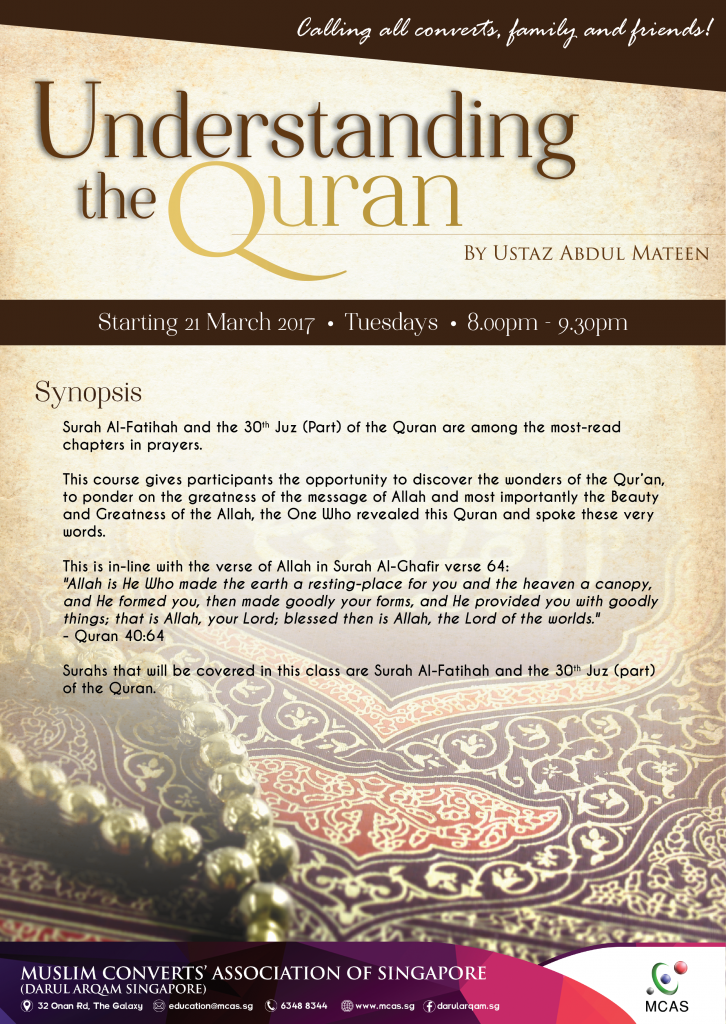 Course Synopsis
Surah Al-Fatihah and the 30th Juz (Part) of the Quran is among the most-read chapters in prayers and among the earliest chapters revealed to the Prophet Muhammad s.a.w.
This course gives participants the opportunity to discover the wonders of the Qur'an, to ponder on the greatness of the message of Allah and most importantly the Beauty and Greatness of the Allah, the One Who revealed this Quran and spoke these very words.
This is in-line with the verse of Allah in Surah Al-Ghafir verse 64:
"Allah is He Who made the earth a resting-place for you and the heaven a canopy, and He formed you, then made goodly your forms, and He provided you with goodly things; that is Allah, your Lord; blessed then is Allah, the Lord of the worlds." – Quran 40:64
Surahs that will be covered in this class are Surah Al-Fatihah and 30th Juzu' (part) of the Quran.
Registration is required*. Free-of-charge.
*As registration may reach full capacity of the Auditorium, seats will be based on first-come first-serve basis. We appreciate that students find their sittings provided outside the Auditorium after the class has been fully occupied.
Commencing 21 March 2017
Every Tuesday.
Time: 8:00pm – 9:30pm
Venue: Darul Arqam Auditorium, 1st Floor
Lecturer: Ustaz Abdul Mateen Bin Abu Bakar
Come Join Us!!!
Bookings
Bookings are closed for this event.
Click to return to: