Lecturer: Abdul Mateen Abu Bakar
Date:
22/04/2014 - 27/12/2016
Time:
8:00 pm - 9:30 pm
Location:
Darul Arqam Auditorium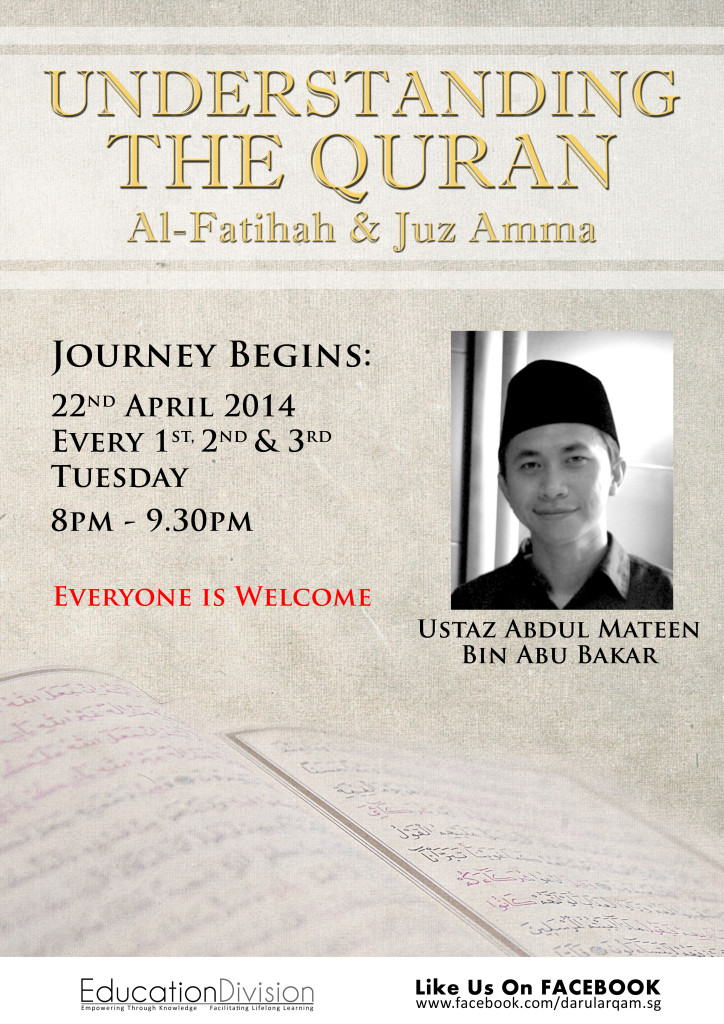 Every 1st , 2nd & 3rd Tuesdays of the month.
THIS CLASS IS ON HARI RAYA BREAK. CLASS WILL RESUME AGAIN ON 2 AUGUST 2016.
Free-of-charge.
Course Synopsis
This course offers to focus on the core meaning and essence of the Quran, hence allowing students to ponder over the message and the meaning of the Quran.
This is inline with the verse of Allah in Surah An-Nisaa verse 82:
'Then do they not reflect upon the Qur'an? If it had been from [any] other than Allah, they would have found within it much contradiction'. (4:82)
This will allow a person to realise the beauty of the Qur'aan, the greatness of the message and most importantly the Beauty and Greatness of the Allah, the One Who revealed this Quran and spoke these very words.
Surahs that will be covered in this class are Surah Al-Fatihah and Surahs from the last Juzu' (part) of the Quran.
Bookings
This event is fully booked.
Click to return to: