Registration Link: https://docs.google.com/forms/d/1ZLH9UID2PZfnRw4F1Sqzso7Yp1TnTt-bKLtZJJu9V5Q/viewform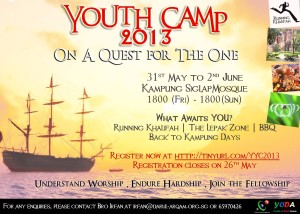 (click on image to enlarge)
Introduction
The Youths of Darul Arqam (YODA) is organizing our annual YODA Youth Camp on 31st May till 2nd June 2013. The camp particularly held in English aims to urge and engage Muslim youths of various ethnicity and background to be part of this enriching experience. This year YODA Youth Camp 2013 will revolve around the theme, "Understand worship. Endure hardship. Join the fellowship." Activities planned for this camp would go in line with the idea of training participants to be the a 'Khalifah' or representative of Allah, in a fresh and an adventure-based way that appeals to youths of age 15 to 24 years old. This camp consists of 3 components focusing on the various aspects of development namely spiritual, physical and intellectual. These components are 1) Helping yourself become good, 2) Helping others become good and 3) Helping the world to be good, clean and beautiful.
This document will provide you with the objective, detailed program, our requirements for the support needed and contact person for liaising purposes with the YODA Youth Camp committee.
Overall Objective
To inspire Muslim youths to be good to oneself, others and environment through hands-on activities
To understand the importance of being the agent of change in the modern world through Islamic way
To empower them with the necessary skills and knowledge in becoming a good Muslim holistically
To in still creativity and critical thinking amongst our Muslim youths
To strengthen the bond between Muslim youths through fun-filled experiential learning
To restore the humanity spirit through idealistic approach towards appreciating nature.
To transform their egotistical contemporary lifestyle of being too hooked up with gadgets towards being demure and humble.
Click to return to: