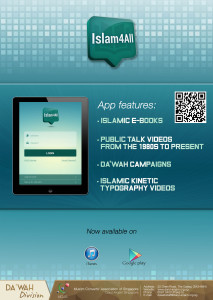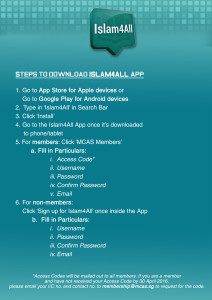 Seek more Islamic knowledge by downloading the App on iTunes and GooglePlay now!
Islam4All App FAQ
Q1. What is the difference between Login as Guest and Sign Up for Islam4All?
A1: By signing up for Islam4All, you will receive new updates on Islam4All, including new videos and E-books that will be uploaded into Islam4All App.
Q2. What is the Access Code for the Islam4All App?
A2: The Access Code is a one-time password that allows one to view all Premium videos for free. Access Code is exclusive for MCAS members.
Q3: How and where do I get the Access code from?
A3: Only MCAS members will be given a one-time Access Code. To be a member, download the member application form or visit our bookshop to apply and make payments. If you are already a member, an Access Code will be mailed out to you. Should you not receive the mail by 30 April 2016, please email your I/C number and contact number to membership@mcas.sg to request for your code. Do note that only one Access Code will be issued to each member.
Q4. If I subscribe to Premium, do I get unlimited access to the Premium videos?
A4: Yes, you will get unlimited access to the Premium videos for one year. An annual subscription fee of SGD$2.58 will apply for subscription.
Q5: What is the size of the App? Will the size increase each time I download an E-Book?
A5: The size of the App is 36.7 MB. Yes, the size of the App will increase each time you download an E-Book.