MCAS Opens for Isyak and Teraweh this Ramadhan 1442H
We are pleased to announce that MCAS has been given the approval to conduct congregational and Teraweh prayers this Ramadhan. Alhamdullilah. Our doors will be open for Isyak and Teraweh prayers every Friday and Saturday nights during the month of Ramadhan exclusively for Converts, Members and our active Volunteers.
There will be 2 zones with a maximum capacity of 50 pax for male congregants and 35 pax for female congregants. Each congregant can only register once for a slot throughout Ramadhan to give other congregants an opportunity to pray Teraweh prayers. Any repeat registration or a non-Member will be considered subject to availability of balance slots.
Registration for Isyak and Teraweh prayers will be opened every Tuesday 10am to Friday 10am each week.
You can book for any balance slots starting from Friday, 11am until we reach the maximum capacity. This window period is open to all congregants including repeat registrants.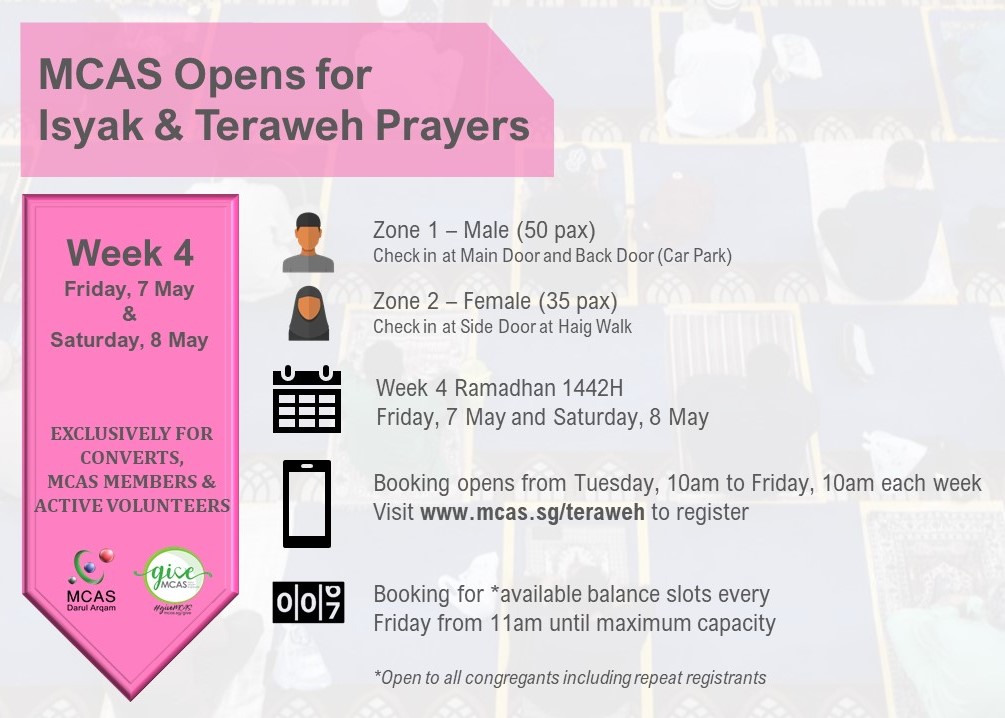 Please select one of the dates below to book your Isyak and Teraweh Prayers