Converts' Enrichment Programme
Converts' Development Division provides an array of courses, workshops and events for new converts, their partners and family members to participate and benefit.
---
1) WELCOME TO ISLAM
Mosque Visits: An opportunity for new Converts to know and understand the functionalities of the Mosques in Singapore while familiarising themselves with mosque etiquettes.
Outdoor Activities: A series of experiential learning sessions on Ablution, Prayer, Fasting and Islamic Heritage.
In-Conversation Series: Exclusive discussions with Islamic Scholars.
Converts' Spiritual Journey: Interactive workshops to enhance spiritual development through activities like Zikir-Remembering Allah; Beauty and Wellness, Convert Sharing and many more.
---
2) INTERNALISING ISLAM
Building Inter-Family Ties: Social bonding workshops that cover topics related to inter-family ties and mixed marriages
Staying Married, Staying in Love: Team-building and interactive programme for married couples.
Basic Islamic Parenting: Workshops to build understanding of the concept of Islamic parenting and the role of family members.

---
3) BUILDING BRIDGES
Monthly Discussions: We have monthly discussions for our Multi-National Clubs, conducted in different languages. The Clubs available are Indonesian Club, Indian Club, Mabuhay Club, European Club, Myanmar Club and Chinese Club.
Understanding Cultural Diversity: An opportunity to understand and appreciate the different cultures and traditions of Converts of various nations; and foster racial harmony. Past UCD events:
---
4) RAMADAN SPECIAL
Azan Workshop: To understand the history and technique of calling for prayer; also an opportunity to Azan during Ramadan at the Association.
Qiyamullail (Night Vigil): Experience the tranquility of retreating in a mosque with family and friends on the last ten days of Ramadan.
Islam & Health: For Converts and partners to uncover the benefits of Prophetic Medicines on body, mind and soul.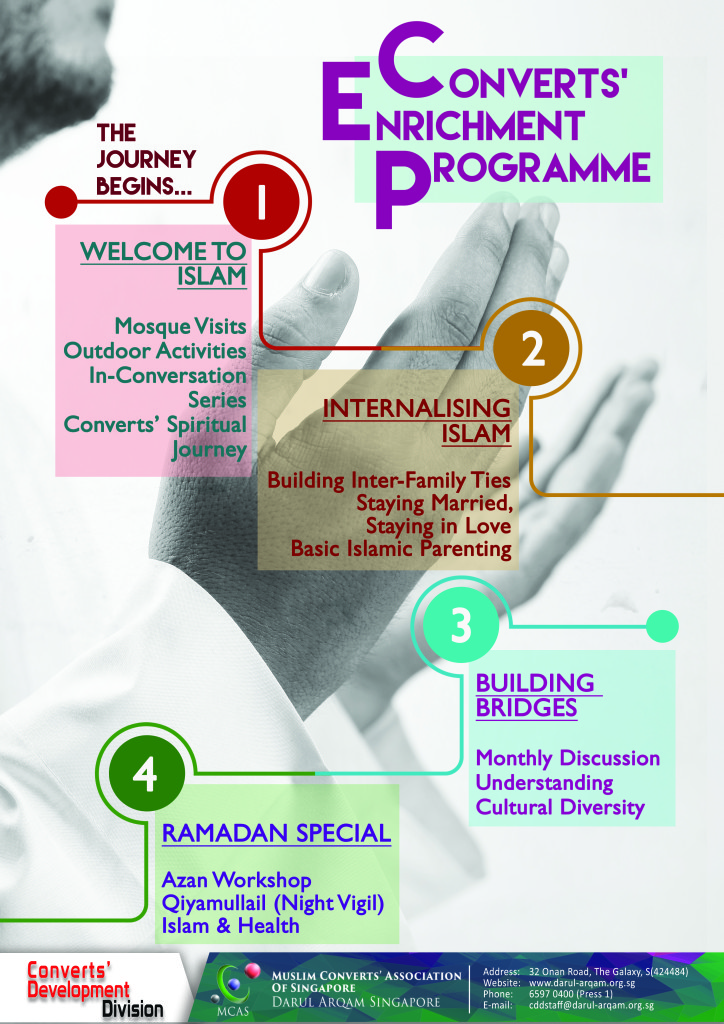 OTHER COURSES
No courses yet!