REGISTRATION CLOSED

About The Programme…
The Foundation in Quranic Studies (FiQS) is a one-year programme offered by Muslim Converts' Association of Singapore (MCAS), also known as Darul Arqam Singapore. It is designed to assist in enhancing and refining Quranic recitation and give exposure to basic Quranic Sciences.
The programme objectives are as follows:
To equip participants with a structured Quranic learning programme, culminating with a certificate
To expose participants to various forms of Quranic Sciences
To enhance and refine the Quranic recitation of all participants
To provide deeper understanding of selected surahs of Al-Quran
At the end of the course, participants will be able to:-
Better appreciate and adore Al-Quran as God's final revelation to mankind
Know and apply proper etiquettes (adab) pertaining to Al-Quran
Understand the history of the compilation and evolution of Al-Quran
Know basic Tajwid rulings and apply them in their recitation properly and confidently
Understand and appreciate the finer meanings of selected surahs of Al-Quran
FiQS is offered in English and all classes are held at MCAS building itself. A certificate will be awarded by MCAS to all participants who have successfully completed the course. Browse through our student testimonials below to get a better understanding of our course!
Student Testimonials
Thank you so much for the opprtunity to learn more about the Quran. We find Tajwid very helpful in our recitation. Hopefully there will be more Quran programmes such as Tajwid and Tafsir. May Allah (swt) bless everyone who has helped to make FIQS a success!

– Bro Ibral & Sis N. Imani Debuque –
An excellent introduction to learning the Quran! Learning with experts and scholars in their field ensures that you get the knowledge with understanding.

– Bro. A. Razak Isa –
English courses about the Quran and Tajwid are very rare in Singapore, especially in a structured classroom format. The course content is beautifully structured to allow students to understand the Quran as well as rules of Tajwid and Recitation. All the Ustaz are very helpful and make the lessons fun. Well done Darul for organising this course!

– Bro. Haja Mydin S/O Y.K. –
Alhamdulillah, I've benefitted from FIQS 2017 and looking forward to attending future programmes / courses organised by DA! Much thanks to all the instructors of the programme for their commitment and passion in imparting their knowledge. May Allah (swt) reward all of you for your effort! In-sha Allah, may FIQS be a stepping stone for future courses geared towards improving the attendees' knowledge and spirituality.

– Sis Izzah M. M. –
Overall, I found FIQS to be an extremely useful course and I would strongly recommend it, especially for those who are keen to build a strong foundation on Tajwid to improve on their recitation of Quran and to acquire basic knowledge and an appreciation on Tafsir and Quranic Science… I'm glad that lecture booklets were made available for each module. They gave me an opportunity to read before classes and learn at my own pace… Assessments and assignments brought on some anxiety initially, but personally, they helped drive me to work to understand, internalise, retain and apply what I have learnt… Thank you MCAS for giving me this opportunity to upgrade myself through this course!

– Sis Sarah Sim –

REGISTRATION EXTENDED (LIMITED SLOTS AVAILABLE)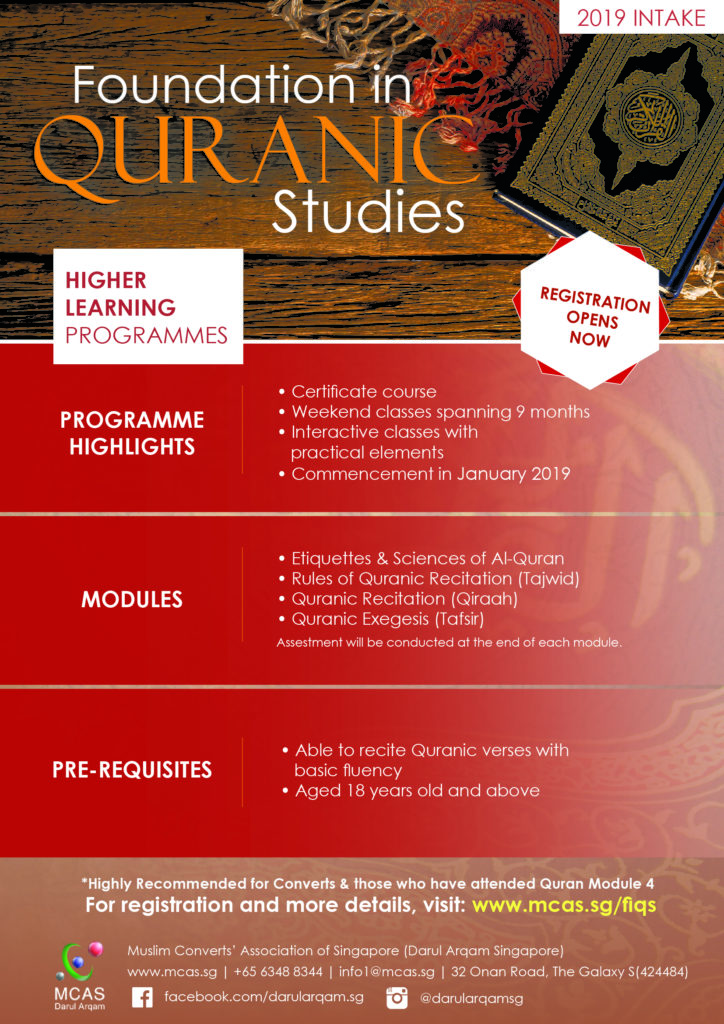 Structure and Duration
Programme Type
Part-time
Total Programme Duration
9 months
Day & Time
Saturdays: 2:00pm – 5:30pm
Modules Offered
1. Etiquettes and Sciences of Al-Quran
2. Tajwid Al-Quran
3. Quranic Recitation
4. Quranic Exegesis (Tafsir)
Course Fee Details

Payment Modes
a) Cash / Nets / Visa
b) By Cheque made payable to:  Muslim Converts' Association of Singapore
*Only applicants who are accepted by MCAS as students will be informed of their successful application. Thereafter they will be required to make a deposit as confirmation of their interest.    
Admission Criteria
Applicants seeking entry into this programme must possess the following requirements:-
At least 18 years of age
Able to recite Al-Quran to a satisfactory level of fluency
Application Procedure
Applications can now be done online! Please click here, fill up the Foundation in Quranic Studies (19-FIQS-1) registration form and click the "Submit Registration" button at the bottom of the page.
Please note the following:
The application form submission does not guarantee you a place in the programme.  The final decision is up to the prerogative of MCAS. Only shortlisted applicants will be notified of their successful application.

Successful applicants will be informed by early January 2019.

Upon acceptance, participants will be required to attend a course briefing (date and time to be confirmed). It is vital that participants attend the briefing as administrative issues such as handing in of assignments, sitting for tests, etc will be informed.
Closing Date For Registration: 16 December 2018
All information is subject to changes without prior notice.
For further information on this course, kindly contact:
(Ms) Nur Syafiqah
DID: 6597-0423
Email: nur.syafiqah@mcas.sg