Children & Youth Classes (DACCnDAYS)
INTAKE 2021 CLOSED!
Introduction
MCAS Children & Youth Classes (DACCnDAYS) are formed to provide a structured Islamic study program for the children of converts in particular and the Muslim public in general. As such, priority is given to the child of a convert or a member of MCAS. Besides nurturing and inculcating Islamic values, the class hopes to instill in the students a sense of pride and responsibility in being Muslims. DACCnDAYS is a part-time religious class conducted every Sunday educating the Children with Religious Knowledge subjects and Quranic Literacy.
Teachers
Our highly motivated teachers and unique curriculum provide progressive development for our youths in their search for knowledge and understanding of Islam. All classes are conducted fully in English.
When & Where:
Every Sunday (except Public Holidays) throughout the year. No classes during June and December but holiday programmes may be organized for the students.
Time: 09:00am – 12:45pm
Venue: Madrasah Al-Ma'arif, No 3 Lorong 39 Geylang , Singapore 387865
Intake Exercise
Term 1: January (closed)
Term 2 : March (closed)
Curriculum:
Religious Knowledge (RK) – IQRA' International Education Foundation
Quranic Literacy (QL) – Taisiirul Akhyaar Quranic Methodology
Payments:
One-time Registration Fee: $10 per student
GIRO Payment: 3 months advance fees in CASH/NETS/CREDIT CARD (S$150)
NON-GIRO Payment: 5 months advance fees in CASH/NETS/CREDIT CARD (S$250)
Monthly Fee: $50
About our fees: As a non-profit organisation, MCAS also conducts some programmes that require payment, which are charged at a minimal fee, to help us cover the costs of our overall operations and services for the community. This fee helps us to keep costs down, as well as ensure that MCAS can continue to make available the free programmes for the public.
For More Information, Please contact:
Main Phone: 6597 0400 (Press 2) E-mail:/ daccndays@mcas.sg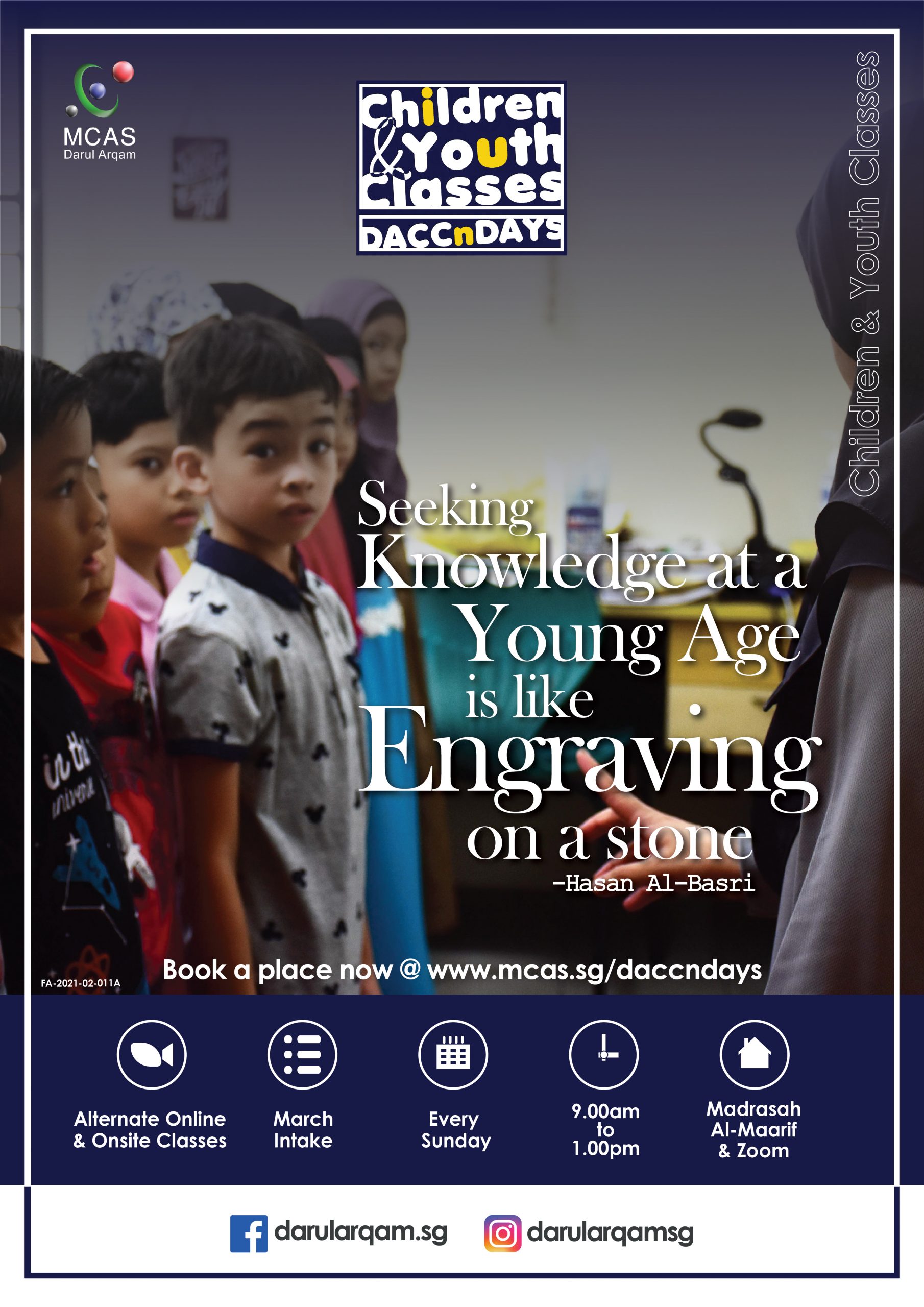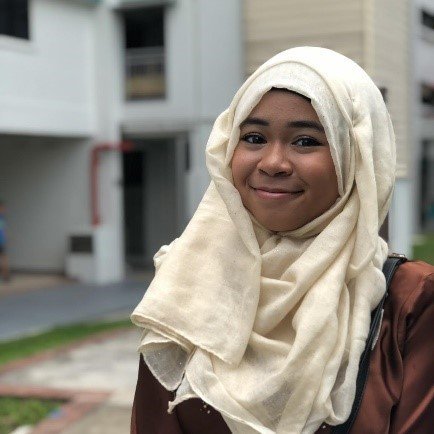 ---
DACCnDAYS has provided me with a very enriching and meaningful holistic learning experience that brought me so much closer to Allah than the younger me could have ever imagined. It shaped me into someone so eager to gain knowledge as the teachers always allowed me to be critical about the things I heard. It has also given me so many opportunities to enjoy while learning through the many programmes we have. I am eternally grateful for all the amazing teachers and friends I've met through DACCnDAYS and I have zero regrets enrolling here. I really encourage every child to study here!

Katryn Alfitrah Asri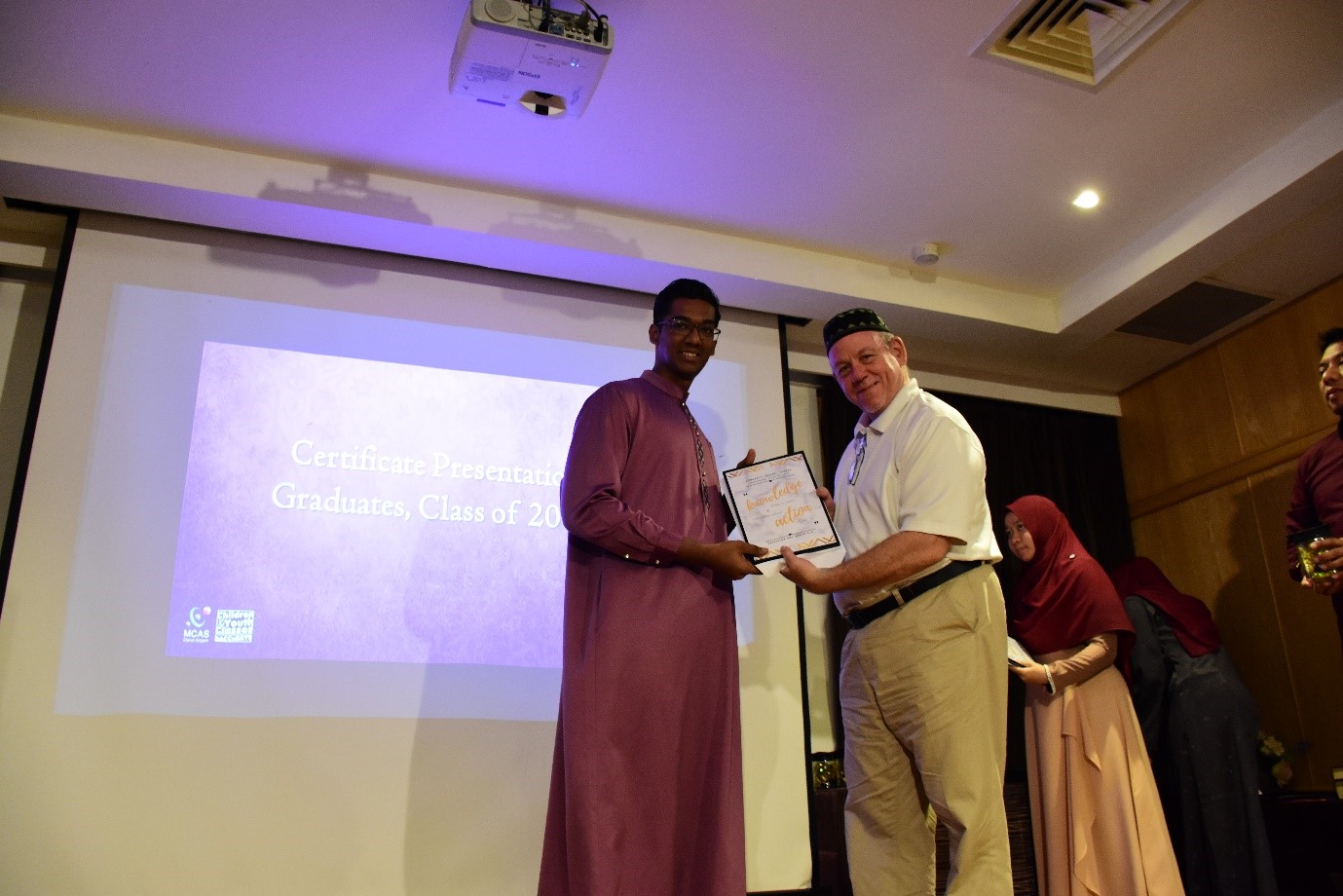 ---
DACCnDAYS have taught many things from values, history and Fiqh rulings. When I started, I didn't know much about Quran and I didn't even know how to read a single verse of the Quran. But after 4 years I have learned the different rulings of the Quran and now alhamdulillah, I can read the Quran fluently. I have also learned about the different types of rulings regarding the different contemporary issues. The madrasah has hosted many events such as burial courses and camps. The teachers here are also very well versed with the topics and very knowledgeable. Also, they are eager to help us and answer any questions we have. All these have given me exposure to Islam which I wouldn't be able to gain in any other way.

Shahul Hameed Bin Mohd Safi