Registration is closed due to overwhelming response!

About The Programme
Foundation in Islamic Religious Studies (FIRST) is a one-year programme designed to assist in strengthening the basics of Islamic Religious Studies. This course offers six (6) modules that include assessments through assignment, test, or a combination of both. Participants can look forward to learning the sciences of Islam catered especially for the masses. Sign up now for your FIRST Islamic certificate course!
FIRST aims to equip participants with:
a structured Islamic Studies programme, culminating with a certificate
the various forms of Islamic Sciences
proper essential teachings of Islam, and how to apply them successfully in life
in-depth understanding and appreciation for Islam as an all-encompassing way of life
At the end of the course, participants will be able to:-
better appreciate Islam with knowledge and confidence to apply proper Islamic rulings in their life
remember key hadith as words and actions of Prophet Muhammad (saw) that were recorded by his Companions (ra)
recognise the biography of Prophet Muhammad (saw) as narrated by credible sources
understand the importance of purification of the soul
envision a sound and pragmatic Islamic worldview
FIRST is offered in English and all classes are held at MCAS building itself. A certificate will be awarded by MCAS to all participants who have successfully completed the course.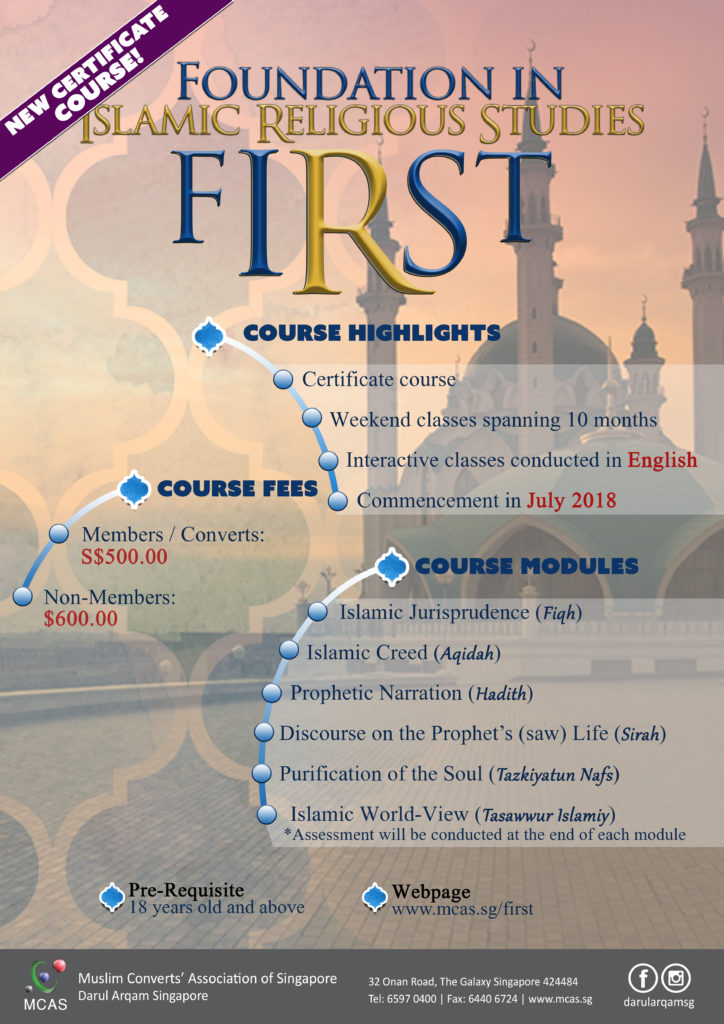 Structure and Duration
Programme Type
Part-time
Total Programme Duration
10 months
Day / Time
Saturdays / 9:30am – 1:00pm
Modules in FIRST
1. Islamic Jurisprudence (Fiqh)
2. Islamic Creed (Aqidah)
3. Prophetic Narration (Hadith)
4. Discourse on the Prophet's (saw) Life (Sirah)
5. Purification of the Soul (Tazkiyatun Nafs)
6. Islamic World-View (Tasawwur Islamiy)
Course Fee Details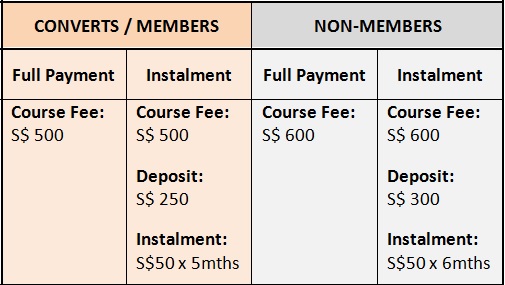 Payment Modes
a) Cash / Nets / Visa
b) By Cheque, made payable to:  Muslim Converts' Association of Singapore
*Only applicants who are accepted by MCAS as students will be informed of their successful application. Thereafter, they will be required to make a deposit as confirmation of their interest.    
Admission Criteria
Applicants seeking entry into this course must possess the following requirement(s):-
At least 18 years of age
Basic proficiency in English language
Application Procedure
Application can now be submitted online! Please click here, fill up the Foundation in Islamic Religious Studies registration form and click the "Submit Registration" button at the bottom of the page.
Please note the following:
The submission of this application form does not guarantee a place in the course.  The final decision is up to the prerogative of MCAS. Only shortlisted applicants will be notified of their successful application.

Successful applicants will be informed by mid-June 2018.

Upon acceptance, participants will be required to attend a course briefing (date and time to be confirmed). It is vital that participants attend the briefing because administrative issues such as handing in of assignments, sitting for tests, etc will be informed.

All information is subject to changes without prior notice.
For further information on this course, kindly contact:
(Mr) Fathul Ariffin
DID: 6597-0420
Email: mfathul@mcas.sg